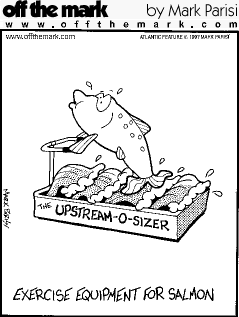 Well, I'm at again. I once again decided that I need to start taking better care of myself. I need to get back in shape, and tone up. I started last week, and so far I've stuck with it. I decided to try a combination of things to get myself into optimal health. I am doing a cardiovascular workout of Cardio-kickboxing. I did this years ago, and it really works wonders. You can burn up to 800 calories per hour!
I also have been doing research on isometric exercise as a means of toning up. Basically, one isolates the muscle at the point where it is worked out the most. In the case of a push-up or bench press, that would be with the arms almost fully extended at shoulder level. So holding a push-up that point does it, as well as putting your palms together at shoulder level and pushing against the other hand as hard as possible for at least 7-10 seconds. The result? In 7-10 seconds you have done the work of a set, isolating the muscle. It also reduces the chances of injury. There are no weights to lift up, no back to hurt, etc. You know, so far, I have the "workout soreness" that follows a really good workout. And so far, I am feeling better.
I addition to the exercise, I am also trying to eat better. You know the saying, "garbage in, garbage out". So, I'm cutting down on the snacks and junk like chips and such. I'm trying to get more protein, and good carbs. I'm trying to eat more vegetables like carrots and broccoli, and also peppers. I do feel better!
This of course is a reminder to me personally that as important that my physical health is, especially that I'm getting a bit older, my spiritual health is much more important. And, just as we have to decide to start getting the needed exercise, so we have to decide to keep our spirits in shape too. We need to take the time to pray, not just prayers, but to live our lives in communion with Christ. To "keep the lines open". How do we do that? Worship is one way. The Bible says that we should
"sing and make melody in our hearts to the Lord"
(Eph. 5:19).
We tune up our spirits in prayer. I think prayer is summed up nicely in one particular verse: "Keep on praying" (1 Thess. 5:17). Now that doesn't mean to live on ours knees, but it does mean that we need to keep an attitude of prayer. It's keeping the line open.
We keep in top spiritual shape by reading God's word.
"All Scripture is inspired by God and is useful to teach us what is true and to make us realize what is wrong in our lives. It straightens us out and teaches us to do what is right. It is God's way of preparing us in every way, fully equipped for every good thing God wants us to do."
(2 Tim. 3:16-17)
And finally, I'll stop here. We keep in spiritual shape by giving. God is a giver. Just read the most well known verse of the entire Bible, John 3:16-
"For God so loved...that he gave..."
. Just read this passage from 2 Corinthians 9-
"And God will generously provide all you need. Then you will always have everything you need and plenty left over to share with others. As the Scriptures say, 'Godly people give generously to the poor. Their good deeds will never be forgotten.' For God is the one who gives seed to the farmer and then bread to eat. In the same way, he will give you many opportunities to do good, and he will produce a great harvest of generosity in you. Yes, you will be enriched so that you can give even more generously. And when we take your gifts to those who need them, they will break out in thanksgiving to God."
(vs. 8-11, bold emphasis mine)
Giving doesn't just have to be about money, either. Don't get me wrong, the Bible tells us to honor God with our money (Prov. 3:9-10), but we need to honor him with all areas that we can give from. Like our time, and our talents. When you learn to give, and let God work that giving heart in you, you will come away blessed many times over in every area of life.
So, here's to good health, both spiritually and physically. God bless!