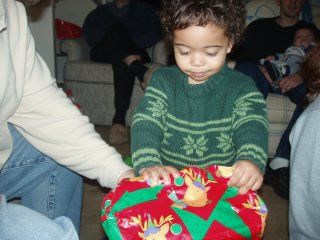 My thanks to Pastor Tim Dilena for his inspiring sermon, "From Thee Comes My Praise", which sparked my blog today.
I love getting gifts. Who doesn't? Birthdays or Christmas or Father's day, I'm not partial. I love to get gifts. And I am grateful for the gifts I receive. But just as I love to get gifts, I can honestly say that I love to give just as much. I don't say this to brag, because it hasn't always been this way. God has made me a giver. Whether it's time, money or other resources, I am blessed to be able to give.
Let's think about this for a minute. Doesn't it make perfect sense have such a desire to give? After all, God's plan for each of us is to make more like him (Gal. 4:19). He tells us in 2 Corinthians 3:18 that he is changing us into the image of Christ. Of all that makes up God's nature, one attribute that we absolutely can't deny is that God is a giver. "For God so loved the world that he gave…" If God is such a giver, friends, then it only make sense that he is making us givers, too.
Abraham was a very blessed man. Back before God changed his name, when he was called Abram, he was called by God to leave everything dear to him and simply follow God. So, he did. And what God promised Abram is something we still hang onto today. Let's read it:
Now the LORD said to Abram, "Go forth from your country, And from your relatives And from your father's house, To the land which I will show you; And I will make you a great nation, And I will bless you, And make your name great; And so you shall be a blessing; And I will bless those who bless you, And the one who curses you I will curse. And in you all the families of the earth will be blessed." Genesis 12:1-3
This is a passage of scripture that we love to quote nowadays. We love the fact that God promises to take care of us. Yet how much attention do we give to one little part of this passage, "I will bless you, and you shall be a blessing"? You see, God didn't intend that his blessings for us would simply remain with us. God blesses us to be a blessing to other around us. And Abram most certainly was a blessing to those around him.
The apostle Paul in the New Testament illustrates this truth for us. In 2 Corinthians 9, Paul is talking about giving. Then he says in the eighth verse, from the NLT,
"And God will generously provide all you need. Then you will always have everything you need and plenty left over to share with others."
I love that version. It stresses the fact that God gives so we can give.
But it's not just people that we are to give to. We must remember to give thanks to God for the gracious blessings he has poured out on us. God isn't obligated to give, as if under some contractual agreement. Plain and simple, he is good, and he loves to bless his children. So, when he blesses us with another day, breath in our lungs, and the means to support our families, friends, we need to bless him! How do we bless the God who already owns everything? We praise him! David understood this. In the 103rd Psalm, verses 1 through 3, we read this:
"Bless the LORD, O my soul: and all that is within me,[bless his holy name. Bless the LORD, O my soul, and forget not all his benefits: Who forgiveth all thine iniquities; who healeth all thy diseases; Who redeemeth thy life from destruction; who crowneth thee with lovingkindness and tender mercies; Who satisfieth thy mouth with good things; so that thy youth is renewed like the eagle's."
When David tells us to bless God, it can be translated as praising God. Look at what David is praising God for. He is praising him for his benefits! God forgives us, he heals us, and he's redeemed us from destruction. He is merciful and gracious to us. We need to give him praise!
So, today, don't just look for someone bless on a human level. God is a gracious and good God who is worthy to be praised. I've heard it said that praise is simply vocalized compliments to God. So take the time today give God some compliments. After all, he has been so good to us, when we don't even deserve it. God bless, friends!